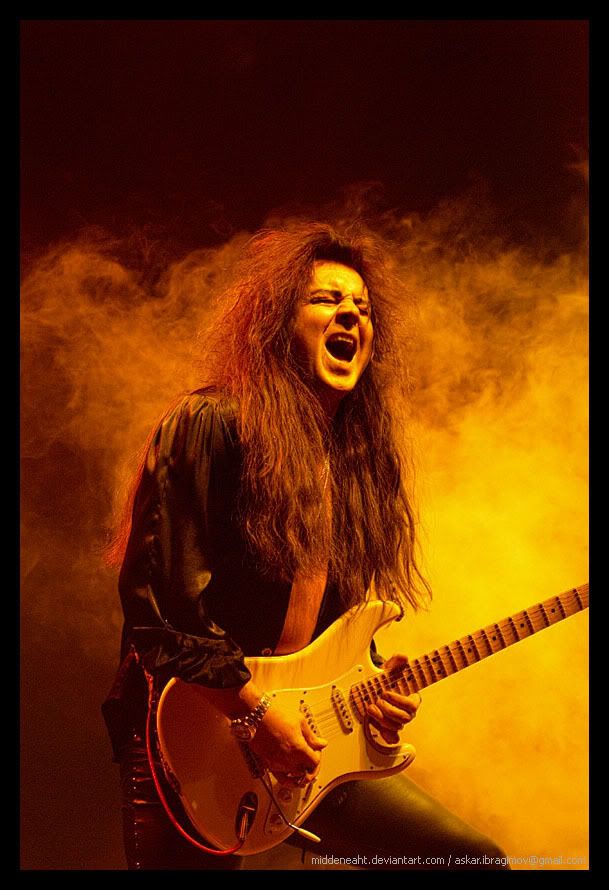 With his place in guitar history firmly established, Yngwie's neo-classical compositions fueled the ears of fans and the ambitions of aspiring guitarists worldwide for over a decade with such powerhouse classic albums as
Marching Out,
Trilogy,
Odyssey,
Live in Leningrad / Trial By Fire (gold-selling concert video of Yngwie's 1989 sold-out concerts in Moscow and Leningrad),
Fire & Ice (which debuted in Japan at #1 and sold over 100,000 copies on the day of its release),
The Seventh Sign,
Magnum Opus,
Inspiration (covering the music of Deep Purple, Rainbow, U.K., Kansas, Scorpions, Rush, and Jimi Hendrix),
Facing the Animal,
Alchemy, and Attack!!
Perpetual flame



In 1997, Yngwie proved that he was much more than a rock phenomenon. After months of intensive work, Yngwie produced his first completely classical work, Concerto Suite for Electric Guitar and Orchestra in Eb minor, Op. 1. This groundbreaking album was recorded in Prague with the prestigious Czech Philharmonic Orchestra and famed symphony conductor Yoel Levi. Several years later, in 2001,Yngwie found his first opportunity to perform the critically acclaimed Concerto Suite with the New Japan Philharmonic Orchestra in Tokyo. The DVD/CD/VHS package of this groundbreaking performance became Yngwie's first release of the year in January 2002.



In 2003, Yngwie joined the famous "G3" Tour in a lineup many guitar fans saw as the ultimate dream combination (Satriani, Vai, Malmsteen). The CD and DVD of the tour became instant classics and hot sellers throughout the year. Once the G3 tour ended, Yngwie took to the road again in support of his Attack album.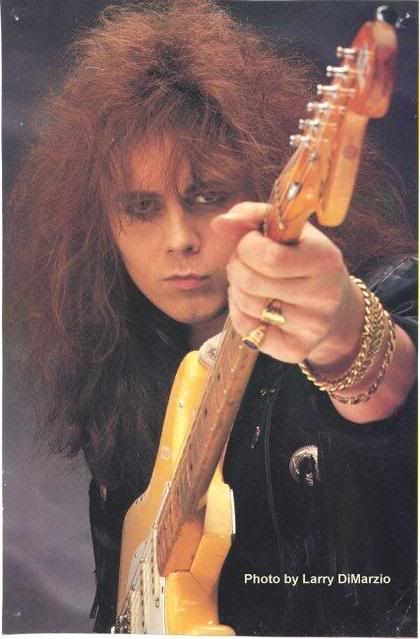 Taking most of 2004 to rest, recharge his creative batteries, and work in his studio at his leisure, Yngwie produced a highly acclaimed new album titled Unleash the Fury. Featuring some of his most impressive playing and songwriting in years, the album garnered rave reviews from fans and critics alike. Virtuosityone.com, a popular Internet hard rock music review site proclaimed, "Yngwie Malmsteen, the Neo-Classical king is back to Unleash The Fury with another bag of alchemy fuelled compositions... Overall Unleash The Fury is a welcome return to form from ... to deliver the goods." Reviewers on Amazon.com and CD Universe gave the new album 5-star ratings, with consumers proclaiming "Yngwie is the original, don't settle for cheap imitations!" and "it's a great year for shredders!"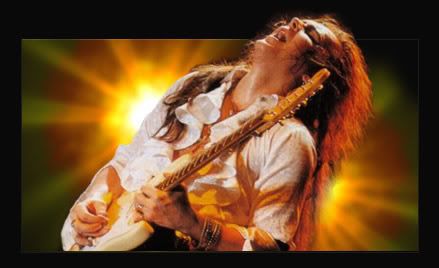 In the summer of 2005, the Unleash the Fury World Tour kicked off in Ireland and headed across the globe, blazing new trails of glory. Malmsteen and his Rising Force lineup proved they were back with a vengeance by selling out the famed Hammersmith Apollo theatre in London and playing to rapt capacity crowds across the U.K., and garnering legions of new fans from Paris to Vienna to Madrid. Eager fans in The U.S. can look forward to the Unleash the Fury Tour later in the year.


source http://www.yngwiemalmsteen.com


yngwie malmsteen at wikipedia go to http://en.wikipedia.org/wiki/Yngwie_Malmsteen

see also at http://www.yngwiemalmsteen.net/